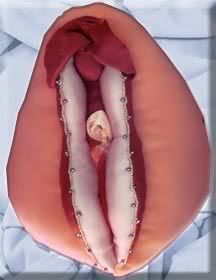 Crikey! Is that an albino Walrus?
How has something like this managed to escape my attention for so long? Until a few moments ago, I knew nothing about these handmade ' Wondrous Vulva Puppets'. I think they're magnificent and suddenly feel an overriding compulsion to acquire several. Actually I'm kidding. They're not cheap. Being priced somewhere between $US400-$US600 a pop, you can excuse the pun when I say,
F@#k that!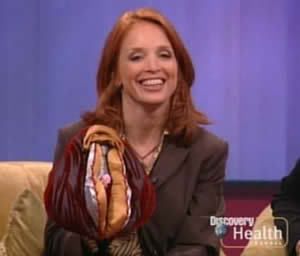 More than a mere provocative plushy or a pussy puppet plaything - (sorry couldn't stop myself) - The Wondrous Vulva Puppet serves as a great educational teaching aid, 'allowing a connection with the emotional and spiritual aspects of sex', 'rather than evoking embarrassment'.

Here's where you can find out more, and here's the link to 'The Original Wondrous Vulva Puppet Collection', where you can perhaps purchase a vulva puppet of your very own.

* I think this one should come with a cute topical creme or ointment accessory, because I'd be making an appointment for that ...